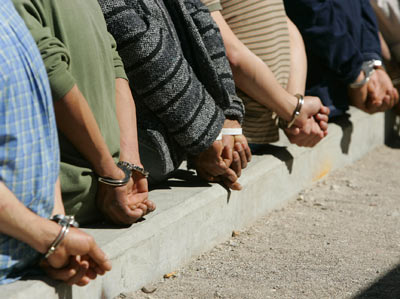 22 Sep

Immigration Bail Bonds 101

If you or a loved one has recently been arrested and held for immigration purposes, you will need an immigration bond to qualify for the release from jail to wait for the scheduled court date. The U.S. Immigration and Customs Enforcement agency (ICE) is a government organization that arrests and detains immigrants. When arrested and detained, the ICE has the authority to release the person based on personal recognizance which doesn't require paying for bond. But when the ICE sets a bond, you or a loved one will need to either pay it yourselves or hire someone to help you.

Armstrong Bail Bonds Does Not Do Immigration Bail Bonds – This Article Is Strictly Informative
The Types of Immigration Bonds
There are two main types of immigration bonds that are available to illegal residents of the U.S. when they are placed in ICE custody. But only if they are found not to be a threat to national security or the safety of the public.
A delivery bond is for an illegal immigrant who has been detained by the ICE and has been qualified for the bond by the immigration judge. In order to qualify for a delivery bond, the immigrant must receive an arrest warrant and a notice of custody conditions from the ICE. A delivery bond is set to make sure that the detainee shows up for all of their immigration hearings. It also allows them to spend time with their family rather than in a jail cell while they wait for their court hearing.
A voluntary departure bond is given as an option in some cases and allow the detainee to leave the country on their own terms and at their own expense by a specific time period. This bond is refunded to the person, if paid in full, when they leave the country. However, the bond amount is forfeited if the person does not leave.
The Cost of Immigration Bonds
When the illegal immigrant is detained, either the ICE or the immigration judge will determine the bond amount. This amount can increase or decrease according to several factors, like the immigration status, criminal history, the employment situation, and any familial ties to the U.S. If there is a high chance that the detainee will try to flee before their court hearing, the bond amount will increase. A typical bond amount for a delivery bond is $1,500, but that can increase up to a maximum of $10,000. The typical bond amount for a departure bond is $500. When the bond is paid and the person has attended all of their court hearings, the government will return their bond amount, but that can sometimes take up to a year or longer.
Paying for an Immigration Bond
There are two general ways to pay for an immigration bond; a surety bond or a cash bond. A surety bond is when the detainee's family or friends work with an immigration bonds agent to pay the bond. The agent typically charges 15-20 percent of the total bond amount, but this means that the loved ones don't have to pay the bond in full themselves. A cash bond is when family or friends pay the bond amount in full directly to the ICE. Once the detainee has made all of their country hearings, that amount is fully refunded.
Finding a Reliable Bonds Agent
Quite often, the loved ones of a detained immigrant will turn to a bail bonds agent to help them pay the bond amount and get their loved one out of jail and waiting at home for their court date. Working with a bonds agent allows you to not have to risk your financial situation by handing over your savings or an important title for collateral, such as a home or car.
Armstrong Bail Bonds is a trustworthy bonds service that has been working with families in the southern California area for years. Though we do not do offer immigration bail bonds services, we do recommend that you take the time to research and find a trustworthy bondsman to help take care of your situation.