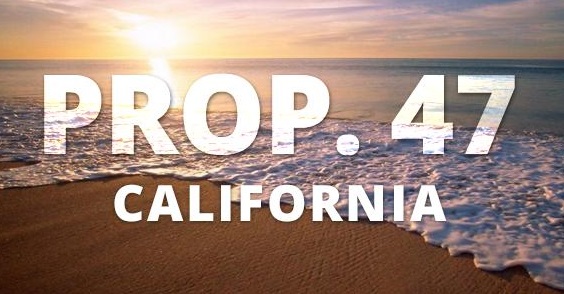 30 Oct

What You Need to Know About Prop. 47: One Year Later

It's now been a year since the Californians voted to approve Proposition 47, a piece of controversial legislation that lowered a number of non-violent felony offenses – including drug possession, property crimes (like theft and vandalism) of less than $950, forgery, and shoplifting, among others – to misdemeanors. While proponents of the Proposition, including rapper Jay Z and for U.S. Representative Newt Gingrich, made claims that Prop 47 would ease pressure on California's overwhelmed prison system and reduce recidivism, many communities are now seeing an increase in property crimes and, in some places, even violent crimes. In light of current findings, it's worth asking: Is Prop. 47 to blame?
Does Proposition 47 Make Committing Crimes Easier?
The statistics certainly seem to say that yes, Prop. 47 does make it easy for people to commit, and continue committing, crimes. According top the Los Angeles Police Department, property crimes were up 12.7 percent year-on-year, while violent crime rose by over 20% in the first six months of 2015 compared with the same period in 2014. An independent report by the ACLU found that arrests were down in some counties – in San Francisco, for example, arrests fell by 50% – but rose in others. San Francisco Police Chief Greg Suhr has said that new law makes it difficult for authorities to leverage the threat of a felony charge to get people into treatment; in his country, enrollment in rehabilitation programs are down by 60%.
While it's easy to draw conclusions from the data, it's also worth noting that, although California crime rates are up after many years of decline, this trend is mirrored in many other states that don't have Proposition 47. Because Prop. 47 gives police officers the option of making an arrest or writing a citation for the recently-reclassified misdemeanor offenses, supporters of the law say the effectiveness of the law depends on how police departments are making those decisions.
Proposition 47: Moving Forward
Should the law stand, law enforcement experts believe police will need to change how they approach minor offenses. Officers must be much more discerning when making arrests, and all circumstances must be considered when deciding each defendant's sentence. Should the criminal justice system fail to adapt to the flexibility Prop. 47 grants – by only writing tickets for misdemeanors, for example, or by focusing completely on felony crimes instead of small property and petty crimes – then California residents will likely see crime rates continue to rise as more and more criminals evade our state's overflowing prison system.
For more interesting news, industry trends, and tips on how our Los Angeles bail bondsmen can help you get back on your feet after an arrest, visit Armstrong's Bail Bonds Blog!